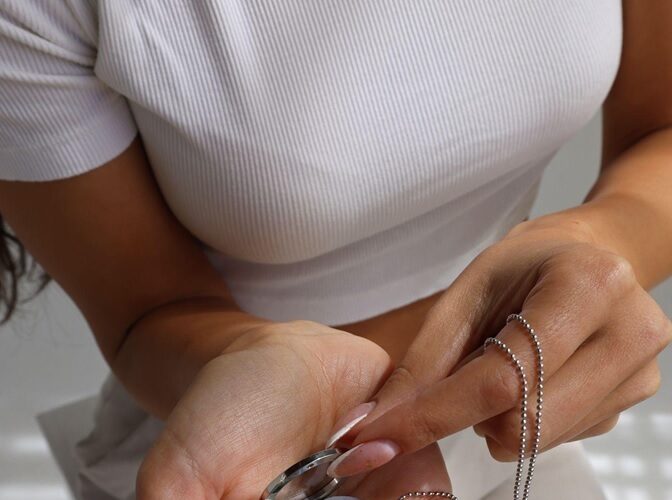 Pregnancy is fundamental in a woman's life, and what better way to celebrate than with a piece of jewelry that captures the beauty and excitement of the journey from bump to baby?
From sentimental keepsakes to stylish accessories, there are countless jewelry gift ideas for the mom-to-be that will make her feel cherished and loved. The article will explore some of the top jewelry gift ideas for expecting mothers.
1.   Pallene Bracelet Bundle and Birth Moon Baby Onesie
The Pallene Bracelet Bundle features a silver-plated charm that depicts a personalized moon at the center, a birthstone charm, a rose gold plated love knot bracelet, and a gold-plated open cuff bracelet. The personalized moon charm is a unique and memorable addition to the bundle, as it's customized to represent the baby's birth month and phase of the moon.
That makes the Pallene bracelet bundle from moonglow newborn jewelry a sentimental, meaningful, and stylish gift for an expecting mother, as it captures the magic of the journey from bump to baby. The Birth Moon Baby Onesie is a personalized and unique onesie that features the baby's birth moon phase. Together, they create a thoughtful and meaningful gift celebrating the journey from bump to baby.
Whether given separately or as a set, any expecting mother will surely cherish the Pallene bracelet bundle and birth moon baby onesie.
2.   Charmed Necklace Bundle
The Charmed Simplicity Necklace Bundle is a timeless and uniquely personal jewelry piece that would make a perfect gift for an expecting mother. Its minimalist design makes it an excellent option for those who prefer simple and elegant jewelry that shows off their style and individuality without being too complicated or busy. The necklace bundle features a small pendant that features a personalized moon phase.
The moon charm is set in silver and represents the phase of the moon on a date of special meaning, such as the baby's birth month. The radiant birth moon charm creates a beautiful lunar necklace that will never go out of style. Moonglow has beautiful pieces with empowering moon-inspired designs, making them the perfect gift to celebrate a special moment with a mom-to-be and inspire their journey.
3.   Beaded Bracelet
Like their calm and glow bracelet, Moonglow's beaded bracelets make great gifts for moms-to-be or pregnant mothers. The bracelet features lovely, sea-colored stones and carries peaceful energy. The jewelry can be calming and soothing during pregnancy.
The bracelet also includes a luminous lunar charm in silver that glows like the moon itself, which you can set to a moment sacred to the mother or baby, such as a birth date or due date.Moonglow's beaded bracelets are beautiful and also incorporate ancient healing powers. They make lovely gifts to help mothers-to-be feel connected to their babies and the universe during this time.
4.   Mini Moon Bracelet
The Mini Moon Bracelet from Moonglow is a perfect gift for a mother-to-be; the artfully-crafted bracelet orbits around the wrist with luminous stainless steel and silver plated circles. The awe-inspiring lunar charm captures a moment, radiating light from within to glow in darkness like the moon.
The piece is a beautiful and meaningful way to mark a special moment, such as a child's due date or birth. The mini satellite bracelet is an excellent gift to mums from Moonglow, featuring a petite and delicate lunar charm that is perfect for everyday wear.
5.   Birthstone Jewelry
Birthstone jewelry is a thoughtful and personal gift idea for a mom-to-be, representing the month of the baby's due date or birth. For example, a birthstone satellite necklace is a beautiful and meaningful gift for a mother-to-be. The hand-finished silver plated pendant features a stunning moon image and a birthstone crystal representing the baby's birth month.
The adjustable length ensures a perfect fit, and the piece can be worn throughout the pregnancy and beyond. This necklace celebrates the baby's arrival on the planet and provides a beautiful reminder of the special moment. It's a unique and personalized gift that any expecting mother would treasure.
 Conclusion
Jewelry gifts are a timeless and personal way to celebrate the joy of expecting a baby. From pairing a stunning pallene bracelet bundle with a birth moon baby onesie to the charmed simplicity necklace bundle, Moonglow offers a wide range of beautiful, unique jewelry pieces perfect for gifting a mom-to-be. The calm and glow-beaded mini-moon bracelets are also great options with special meaning and energy.
The birthstone satellite necklace provides a meaningful way to celebrate the arrival of a precious new life. Moon-inspired jewelry pieces are beautiful and unique and carry a special meaning and a sense of empowerment, making them the perfect gift for a mom-to-be.